Angel Food Cake
2023-04-17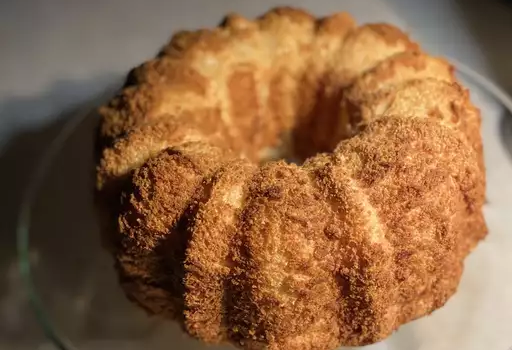 Servings :

14

Prep Time :

30m

Cook Time :

40m

Ready In :

1:10 h
Angel Food Cake
Angel food cake is a light, airy cake made with a delicate sponge-like texture. It is made by whipping egg whites and sugar into a meringue and then gently folding in flour, creating a fluffy batter that rises to perfection. This classic dessert has been enjoyed by many for generations and is perfect for any occasion, from birthdays to weddings.
The cake's history dates back to the late 19th century when it was created in the United States. It was originally known as "Silver Cake" due to its pure white color and light texture. It was later renamed "Angel Food Cake" due to its delicate, ethereal taste and texture.
One of the most unique things about angel food cake is that it is made without any fat or oil, making it a healthier alternative to other cakes. It is also naturally low in calories, making it a popular dessert for those who are watching their waistline.
Angel food cake is typically served with fresh berries or a light whipped cream topping. It is also delicious when topped with a sweet glaze or frosting. For those who want to add a little extra flavor, adding citrus zest or vanilla extract to the batter can create a delightful twist on this classic dessert.
While angel food cake may seem intimidating to make at first, it is actually quite simple. However, it does require some specific techniques, such as properly whipping the egg whites and gently folding in the dry ingredients. With a little practice, anyone can master the art of making this heavenly dessert.
Overall, Angel food cake is a delicious, light and airy dessert that is perfect for any occasion. Whether you're celebrating a special occasion or just want to enjoy a delicious treat, this classic dessert is sure to please.
Ingredients
1 cup cake flour
1 ½ cups white sugar, divided
12 egg whites
1 ½ teaspoons vanilla extract
1 ½ teaspoons cream of tartar
½ teaspoon salt
Method
Step 1
Preheat the oven to 375 degrees F (190 degrees C). Clean and fully dry a 10-inch tube pan.
Step 2
Sift together flour, and 3/4 cup sugar, set aside.
Step 3
Whip egg whites, along with vanilla, cream of tartar, and salt, in a large bowl to medium stiff peaks. Gradually add remaining 3/4 cup sugar while continuing to whip to stiff peaks. When the egg white mixture has reached its maximum volume, fold in the sifted ingredients gradually, 1/3 at a time. Do not overmix. Put the batter into the tube pan.
Step 4
Bake in the preheated oven until the cake springs back when touched, 40 to 45 minutes.
Step 5
Balance the tube pan upside down on the top of a bottle to prevent decompression while cooling. When cool, run a knife around the edge of the pan and invert onto a plate.
Comments
comment