Beef Ragu
2023-04-12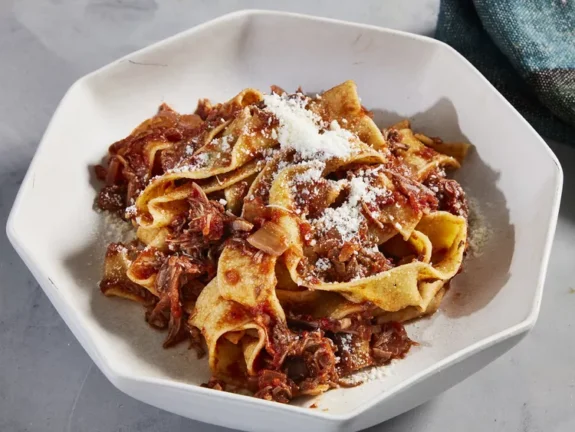 Servings :

4

Prep Time :

20m

Cook Time :

3:00 h

Ready In :

3:20 h
Beef ragu
is a classic Italian dish made with slow-cooked beef, tomatoes, and aromatic vegetables. This hearty and comforting dish is perfect for a cozy night in or a special dinner party. Our recipe for beef ragu is simple and easy to follow, with the meat cooked to perfection and the sauce bursting with flavor. Serve over your favorite pasta or polenta for a satisfying and delicious meal. With its rich flavor and tender texture, this beef ragu recipe is sure to become a family favorite. Give it a try today and enjoy the taste of Italy in the comfort of your own home!
Ingredients
2 tablespoons olive oil
1 (2 pound) boneless beef chuck roast, cut into 2-inch cubes
1 teaspoon ground black pepper
3 teaspoons kosher salt, divided
1 yellow onion, chopped
6 cloves garlic, chopped
2 tablespoons harissa (Optional)
2 tablespoons tomato paste
1 cup dry red wine
1 (28 ounce) can crushed tomatoes
1 bay leaf
1 pound pappardelle pasta, cooked and drained
grated Parmesan cheese, for serving
Method
Step 1
Heat oil in a large Dutch oven over medium-high. Season chuck roast with pepper and 2 teaspoons salt. Sear meat until browned on every side, working in batches if necessary, about 10 minutes. Remove from Dutch oven and transfer to a large plate.
Step 2
Reduce heat to medium and stir in onion. Cook, stirring often, until softened, about 8 minutes. Add garlic and cook, stirring constantly, until fragrant, about 1 minute. Stir in harissa and tomato paste; cook, stirring constantly, until caramelized, about 2 minutes.
Step 3
Pour in wine and cook, scraping the bottom of the pot with a wooden spoon to loosen any browned bits, until reduced by two thirds, about 5 minutes. Stir in tomatoes, bay leaf, chuck roast, and remaining 1 teaspoon salt. Reduce heat to medium-low and cover. Cook, stirring occasionally, until meat is tender, sauce has thickened, and flavors meld, about 2 1/2 hours.
Step 4
Remove and discard bay leaf. Transfer meat from Dutch oven to a cutting board and shred using 2 forks. Return meat to pot and stir in pappardelle. Top with grated Parmesan cheese.
Comments
comment