Yaki Mandu
2020-02-05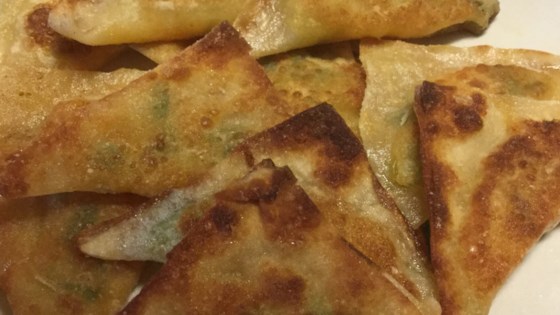 Servings :

25

Prep Time :

30m

Cook Time :

15m

Ready In :

45m
Yaki Mandu
Yaki Mandu is a Korean dumpling that can be steamed or fried. They look a lot like Chinese pot-stickers. Yaki means fried in Japanese and Mandu means dumpling in Korean. They're great for parties or as an appetizer. There's a lot of prep in making these and they take some time, but as quick as you can fry them they'll be gone!
Ingredients
1 pound ground beef
1 1/2 cups vegetable oil for frying
1/2 cup finely chopped green onions
1/2 cup finely chopped cabbage
1/2 cup finely chopped carrot
1/2 cup minced garlic
4 teaspoons sesame oil, divided
1 tablespoon toasted sesame seeds
1/2 teaspoon monosodium glutamate (such as Ac'cent®)
salt and ground black pepper to taste
2 eggs
1 (16 ounce) package wonton wrappers
3 tablespoons soy sauce
2 teaspoons rice wine vinegar
1 teaspoon toasted sesame seeds, or more to taste
Method
Step 1
Heat a large skillet over medium-high heat. Cook and stir beef in the hot skillet until browned and crumbly, 5 to 7 minutes; drain and discard grease.
Step 2
Heat vegetable oil in a separate skillet over medium heat.
Step 3
Mix green onions, cabbage, carrot, garlic, 1 tablespoon sesame oil, 1 tablespoon sesame seeds, monosodium glutamate, salt, and pepper into ground beef mixture; cook and stir until liquid is evaporated and vegetables are tender, 5 to 10 minutes. Transfer beef mixture to a bowl and mix in 1 egg.
Step 4
Crack the second egg into a bowl and beat well.
Step 5
Hold 1 wonton wrapper in the palm of your hand and brush a thin layer of beaten egg on 1 edge. Scoop about 1 teaspoon beef mixture into the center of the wrapper. Fold wrapper in half, corner to corner, to make a triangle and pinch the edges shut, crimping with your fingers to make a seal. Press the air out by cupping your fingers over the dumpling in your palm and pressing lightly.
Step 6
Fry wontons in the hot oil until 1 side is browned, 2 to 3 minutes. Flip and cook until other side is browned, 2 to 3 minutes. Transfer wontons to a paper towel-lined plate to drain using a slotted spoon.
Step 7
Whisk soy sauce, rice wine vinegar, 1 teaspoon sesame oil, and 1 teaspoon sesame seeds together in a bowl until dipping sauce is smooth. Serve alongside wontons.
Comments
comment