Garlic Chicken Rigatoni
2023-04-08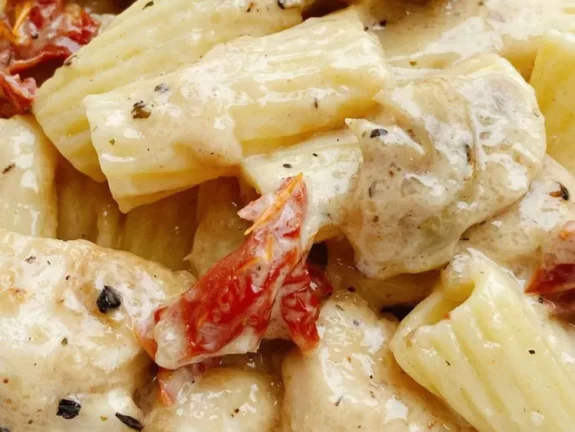 Servings :

4

Prep Time :

10m

Cook Time :

25m

Ready In :

35m
Garlic Chicken Rigatoni
Looking for a flavorful and easy-to-make pasta dish? Try this Garlic Chicken Rigatoni recipe! Tender chicken, al dente rigatoni pasta, and a creamy garlic sauce come together for a satisfying meal. Follow the recipe for a delicious dinner in under 30 minutes!
Ingredients
1 pound rigatoni pasta
1 pound boneless, skinless chicken breasts, cut into 1-inch pieces
4 cloves garlic, minced
1/2 cup chicken broth
1/2 cup heavy cream
1/2 cup grated Parmesan cheese
1/4 cup chopped fresh parsley
Salt and pepper to taste
2 tablespoons olive oil
Method
Step 1
Cook the rigatoni pasta according to package instructions until al dente. Drain and set aside.
Step 2
Season the chicken pieces with salt and pepper.
Step 3
Heat the olive oil in a large skillet over medium-high heat. Add the chicken and cook until browned and cooked through, about 5-6 minutes per side.
Step 4
Add the minced garlic to the skillet and cook for 1-2 minutes until fragrant.
Step 5
Pour in the chicken broth and scrape up any browned bits from the bottom of the skillet.
Step 6
Add the heavy cream and Parmesan cheese, and stir to combine. Simmer for 3-4 minutes until the sauce thickens.
Step 7
Add the cooked rigatoni to the skillet and toss to coat in the sauce.
Step 8
Serve hot, garnished with chopped parsley. Enjoy your delicious Garlic Chicken Rigatoni!
Comments
comment