Sweet and Sour Chicken
2020-02-06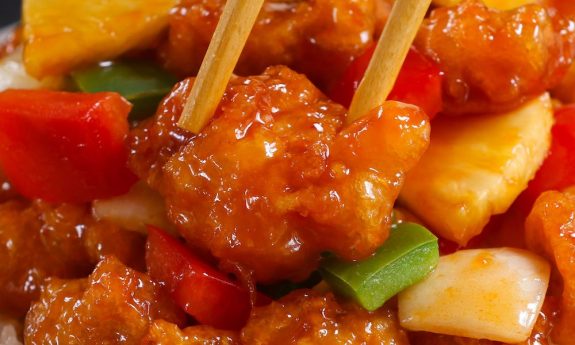 Servings :

8

Prep Time :

30m

Cook Time :

20m

Ready In :

60m
Sweet and Sour Chicken
This recipe is authentic and tastes very similar to the restaurant style sweet & sour chicken. Easy ingredients too!
Ingredients
1 (8 ounce) can pineapple chunks, drained (juice reserved)
2 tablespoons cornstarch
1-1/2 cups water
3/4 cup white sugar
1/2 cup distilled white vinegar
2 drops orange food color
8 skinless, boneless chicken breast halves - cut into 1 inch cubes
2-1/4 cups self-rising flour
2 tablespoons vegetable oil
2 tablespoons cornstarch
1/2 teaspoon salt
1/4 teaspoon ground white pepper
1 egg
1-1/2 cups water
4 cups vegetable oil for frying
2 green bell pepper, cut into 1 inch pieces
Method
Step 1
In a saucepan, combine 1 1/2 cups water, sugar, vinegar, reserved pineapple juice, and orange food coloring. Heat to boiling. Turn off heat. Combine 1/4 cup cornstarch and 1/4 cup water; slowly stir into saucepan. Continue stirring until mixture thickens.
Step 2
Combine flour, 2 tablespoons oil, 2 tablespoons cornstarch, salt, white pepper, and egg. Add 1 1/2 cups water gradually to make a thick batter. Stir to blend thoroughly. Add chicken pieces, and stir until chicken is well coated.
Step 3
Heat oil in skillet or wok to 360 degrees F (180 degrees C). Fry chicken pieces in hot oil 10 minutes, or until golden. Remove chicken, and drain on paper towels.
Step 4
When ready to serve, layer green peppers, pineapple chunks, and cooked chicken pieces on a platter. Pour hot sweet and sour sauce over top.
Comments
comment
Average Member Rating
(5 / 5)
7 people rated this recipe
Related Recipes:
Nutritional Info
This information is per serving.
calories

639

fat

18.4 g

carbohydrates

56.2 g

protein

59.2 g

cholesterol

160 mg

sodium

759 mg