Garlic Chicken
2018-07-09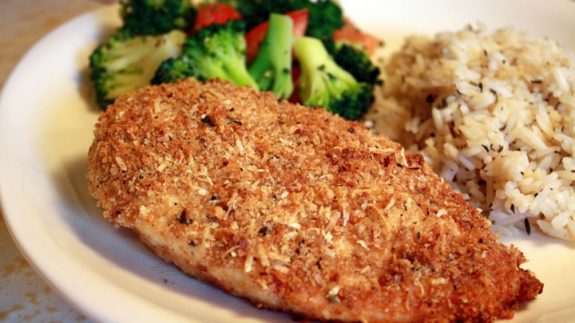 Servings :

4

Prep Time :

20m

Cook Time :

35m

Ready In :

55m
Garlic Chicken
Garlic Chicken – ingredients and method
Ingredients
1/4 cup olive oil
2 cloves garlic, crushed
1/4 cup Italian-seasoned bread crumbs
1/4 cup grated Parmesan cheese
4 skinless, boneless chicken breast halves
Method
Step 1
Preheat oven to 425 degrees F (220 degrees C).
Step 2
Heat olive oil and garlic in a small saucepan over low heat until warmed, 1 to 2 minutes. Transfer garlic and oil to a shallow bowl.
Step 3
Combine bread crumbs and Parmesan cheese in a separate shallow bowl.
Step 4
Dip chicken breasts in the olive oil-garlic mixture using tongs; transfer to bread crumb mixture and turn to evenly coat. Transfer coated chicken to a shallow baking dish.
Step 5
Bake in the preheated oven until no longer pink and juices run clear, 30 to 35 minutes. An instant-read thermometer inserted into the center should read at least 165 degrees F (74 degrees C).
Comments
comment