Red Velvet Cake
2023-04-14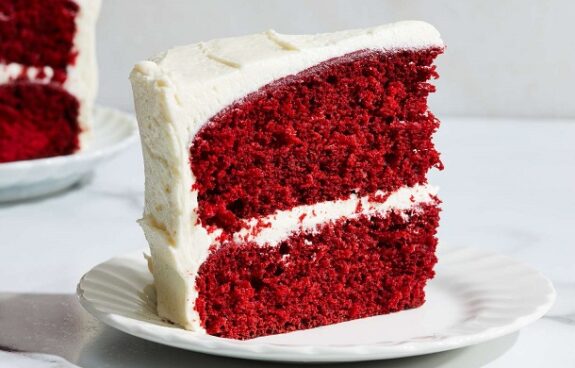 Servings :

12

Prep Time :

25m

Cook Time :

30m

Ready In :

1:30 h
Red Velvet Cake
is a classic dessert that's become a beloved favorite around the world. With its moist, fluffy texture and rich, cocoa flavor, it's a treat that's perfect for any occasion.
The recipe for Red Velvet Cake typically includes a blend of flour, sugar, cocoa powder, and buttermilk, along with other ingredients like eggs, butter, and vanilla extract. What sets this cake apart is the addition of red food coloring, which gives it its iconic vibrant color.
Once the cake is baked and cooled, it's typically topped with a cream cheese frosting that perfectly complements the cake's sweetness.
Red Velvet Cake has a fascinating history, with stories about its origins dating back to the 1800s. It's said to have gained popularity during the Great Depression, when bakers would use beets to add moisture and color to their cakes. Today, it remains a beloved dessert for any occasion, from birthdays to weddings and beyond.
Ingredients
1 ½ cups white sugar
½ cup shortening
2 eggs
4 tablespoons red food coloring
2 tablespoons cocoa
1 cup buttermilk
1 teaspoon salt
1 teaspoon vanilla extract
2 ½ cups sifted all-purpose flour
1 tablespoon distilled white vinegar
1 ½ teaspoons baking soda
Icing:
1 cup milk
5 tablespoons all-purpose flour
1 cup white sugar
1 cup butter, room temperature
1 teaspoon vanilla extract
Method
Step 1
Preheat the oven to 350 degrees F (175 degrees C). Grease two 9-inch round pans.
Step 2
Make the cake: Beat 1 1/2 cups sugar and shortening together in a large bowl with an electric mixer until light and fluffy. Add eggs one at a time, beating well after each addition. Combine red food coloring and cocoa to make a paste; add to creamed mixture.
Step 3
Mix buttermilk, salt, and 1 teaspoon vanilla together in a small bowl. Add flour, alternating with buttermilk mixture, mixing just until incorporated. Mix vinegar and baking soda together; gently fold into cake batter and pour into prepared pans.
Step 4
Bake in the preheated oven until a toothpick inserted into the center comes out clean, about 30 minutes. Cool on a wire rack for 5 minutes. Run a table knife around the edges to loosen. Invert carefully onto a serving plate or cooling rack. Let cool, about 30 minutes.
Step 5
Make the icing: Heat milk and flour in a saucepan over low heat, stirring constantly, until thick. Set aside to cool completely.
Step 6
Meanwhile, beat sugar, butter, and vanilla together in a large bowl with an electric mixer until light and fluffy. Add cooled flour mixture and beat until frosting is a good spreading consistency. Frost cake layers when completely cool.
Comments
comment