Spicy Rapid Roast Chicken
2018-07-06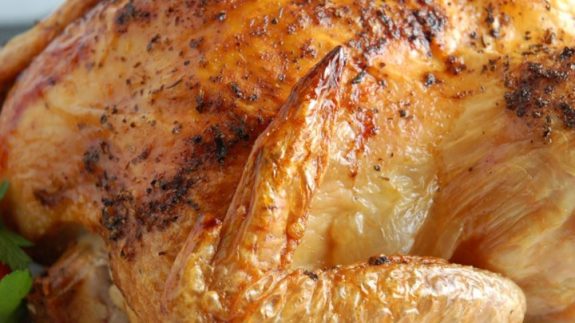 Servings :

8

Prep Time :

15m

Cook Time :

60m

Ready In :

1:30 h
Spicy Rapid Roast Chicken
Spicy Rapid Roast Chicken – ingredients and method
Ingredients
1 (3 pound) whole chicken
1 tablespoon olive oil
1/4 teaspoon salt
1/4 teaspoon ground black pepper
1/4 teaspoon dried oregano
1/4 teaspoon dried basil
1/4 teaspoon paprika
1/8 teaspoon cayenne pepper
Method
Step 1
Preheat oven to 450 degrees F (230 degrees C).
Step 2
Rinse chicken thoroughly inside and out under cold running water and remove all fat. Pat dry with paper towels.
Step 3
Put chicken into a small baking pan. Rub with olive oil. Mix the salt, pepper, oregano, basil, paprika and cayenne pepper together and sprinkle over chicken.
Step 4
Roast the chicken in the preheated oven for 20 minutes. Lower the oven to 400 degrees F (205 degrees C) and continue roasting to a minimum internal temperature of 165 degrees F (74 degrees C), about 40 minutes more. Let cool 10 to 15 minutes and serve.
Comments
comment