Roast Cauliflower and Hake Bowl
2022-12-12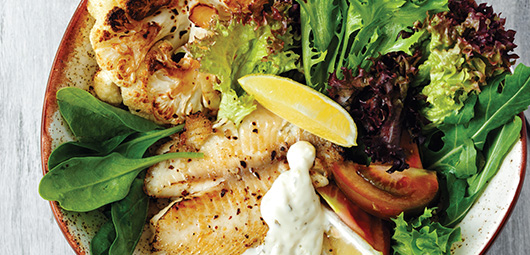 Servings :

4

Cook Time :

40m

Ready In :

60m
Roast Cauliflower and Hake Bowl
Roast Cauliflower and Hake Bowl it's easy to make, and you can be as creative with the measurements as you want.
Ingredients
1 cauliflower head, halved
5 cherry tomatoes, quartered
3 tbsp of olive oil
1 tbsp cumin
1 tsp coriander
1 tsp paprika
1 tsp onion powder
1 tsp garlic powder
1 tsp ground sea salt
1/4 tsp fresh, ground pepper
200g hake fillets
2 tbsps butter
150g mixed lettuce leaves
1/2 lemon, sliced into wedges
tartar sauce, to serve
Method
Step 1
Preheat oven to 180°C. Line a baking tray with parchment paper.
Step 2
In a large mixing bowl, place the cauliflower. Add the olive oil, chilli powder, cumin, coriander, paprika, onion powder, garlic powder, salt and pepper to bowl and mix until cauliflower is coated.
Step 3
Place cauliflower on a baking tray and bake for 30-40 minutes checking and stirring every 15-20 minutes.
Step 4
While that is in the oven, fry the hake fillets in the butter until cooked through.
Step 5
Assemble the bowls by placing a bed of lettuce at the bottom of each bowl. Arrange the cauliflower, hake and cherry tomatoes. Serve with tartar sauce and lemon wedges.
Comments
comment