Slippery Shrimp
2018-12-08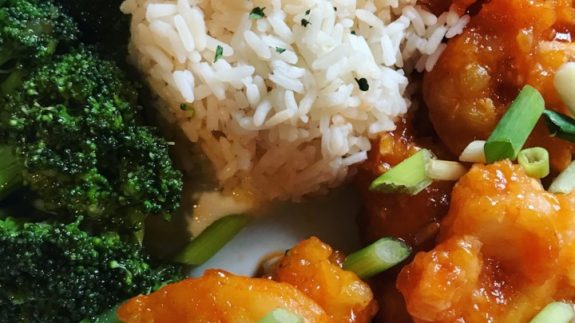 Servings :

4

Prep Time :

15m

Cook Time :

20m

Ready In :

35m
Slippery Shrimp
Slippery Shrimp – ingredients and method
Ingredients
2 cups peanut oil for frying
1 pound peeled and deveined large shrimp
1/4 cup cornstarch
2 large cloves garlic, minced
1/2 teaspoon minced fresh ginger
1/2 teaspoon cayenne pepper
1 tablespoon white wine
1 tablespoon white vinegar
1 tablespoon ketchup
5 teaspoons white sugar
1/2 teaspoon salt
1/4 cup water
2 teaspoons cornstarch
2 teaspoons water
5 green onions, sliced
Method
Step 1
Heat peanut oil in a wok to 375 degrees F (190 degrees C).
Step 2
Toss the shrimp with 1/4 cup of cornstarch to coat, then drop into the hot oil, and quickly fry until golden brown, about 45 seconds. When done, drain shrimp, and set aside.
Step 3
Pour all but 1 tablespoon of oil from the wok, then stir in the garlic, ginger, and cayenne pepper. Cook and stir until the garlic is fragrant and beginning to brown, about 30 seconds. Pour in the wine, vinegar, ketchup, sugar, salt, and 1/4 cup of water, and bring to a boil over high heat. Dissolve the cornstarch in 2 teaspoons of water, stir into the boiling sauce, and boil until thickened, about 1 minute. Stir the shrimp and green onions into the sauce until coated.
Comments
comment