Beef Bulgogi
2023-01-04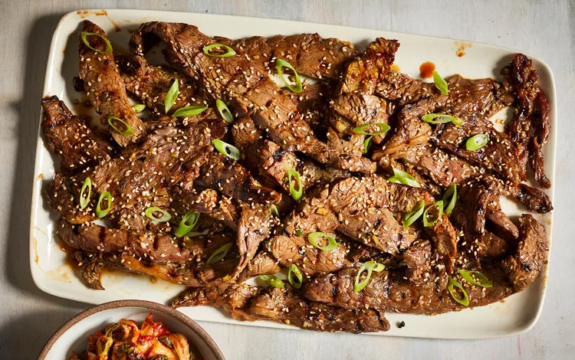 Yield :

4 servings

Servings :

4

Prep Time :

10m

Cook Time :

5m

Ready In :

1:15 h
Beef Bulgogi is a Korean dish made from thinly sliced beef that is marinated in a blend of soy sauce, sugar, sesame oil, garlic, and other seasonings, then grilled or stir-fried. This dish is known for its savory and slightly sweet flavor, and is often served over rice or wrapped in lettuce leaves. If you're looking to try a delicious and authentic Korean dish, then Beef Bulgogi is definitely worth a try. With its bold flavors and tender beef, it's sure to be a hit with anyone who loves Asian cuisine.
Ingredients
5 tablespoons soy sauce
¼ cup chopped green onion
2 ½ tablespoons white sugar
2 tablespoons minced garlic
2 tablespoons sesame seeds
2 tablespoons sesame oil
½ teaspoon ground black pepper
1 pound flank steak, thinly sliced
Method
Step 1
Whisk soy sauce, green onion, sugar, garlic, sesame seeds, sesame oil, and pepper together in a bowl.
Step 2
Place flank steak slices in a shallow dish. Pour marinade over top. Cover and refrigerate for at least 1 hour or overnight.
Step 3
Preheat an outdoor grill for high heat, and lightly oil the grate.
Step 4
Quickly grill flank steak slices on the preheated grill until slightly charred and cooked through, 1 to 2 minutes per side.
Comments
comment