Raspberry Icebox Cake
2020-07-06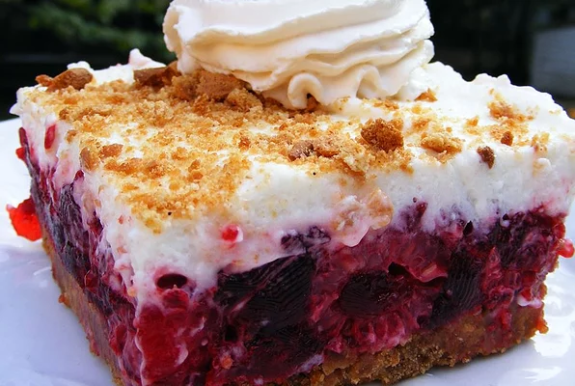 Raspberry Icebox Cake
Raspberry Icebox Cake is lovely refreshing dessert for those hot summer days. I used raspberries from my own back yard and got a light, refreshing and delicious dessert
Ingredients
24 graham crackers, crushed
⅓ cup butter
¼ cup packed brown sugar
1 (6 ounce) package raspberry flavored Jell-O® mix
1 cup boiling water
15 ounces frozen raspberries
20 large marshmallows
⅓ cup milk
1 cup heavy whipping cream, whipped
Method
Step 1
Preheat oven to 350 degrees F (175 degrees C).
Step 2
Mix graham cracker wafer crumbs, butter and brown sugar until well combined. Set aside 1/4 cup of this mixture for a topping and press the remainder into one 9x13 inch pan.
Step 3
Bake at 350 degrees F (175 degrees C) for 10 minutes. Set aside to cool.
Step 4
Dissolve raspberry gelatin in the boiling water and add the frozen raspberries, stirring until melted. Chill until partially set and spread on wafer base.
Step 5
Melt marshmallows with the milk. When cool, fold in whipped cream and spread on top of raspberry mixture. Sprinkle with remaining crumbs. Chill for 3-4 hours before serving.
Comments
comment