Spicy Korean Ribs
2019-08-13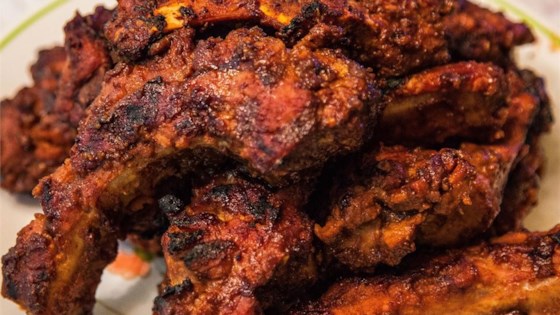 Servings :

8

Prep Time :

15m

Cook Time :

2:12 h

Ready In :

7:32 h
Spicy Korean Ribs
Spicy Korean Ribs – ingredients and method
Ingredients
4 racks baby back pork ribs
salt and ground black pepper to taste
1 small onion, sliced
1 cup kochujang (Korean hot sauce)
1/4 cup white vinegar
1/4 cup minced garlic
3 tablespoons sesame oil
2 tablespoons soy sauce
1 (1 1/2 inch) piece fresh ginger root, minced, or to taste
1 (1 1/2 inch) piece fresh ginger root, sliced, or to taste
1 (12 fluid ounce) bottle pilsner-style lager
1 1/2 teaspoons toasted white sesame seeds
1 1/2 teaspoons toasted black sesame seeds
Method
Step 1
Remove membrane from back of ribs or score with a sharp knife. Place ribs in a shallow dish and season with salt and pepper.
Step 2
Puree onion in a blender or food processor. Add kochujang, vinegar, garlic, sesame oil, soy sauce, and minced ginger; puree into a sauce. Rub 1/3 generously over ribs, reserving the rest of the sauce. Cover ribs with plastic wrap and refrigerate 5 hours to overnight.
Step 3
Preheat the oven to 325 degrees F (165 degrees C).
Step 4
Scatter sliced ginger root over the bottom of a roasting pan. Place ribs meat-side down on top of ginger slices and pour lager over ribs. Cover with a lid or aluminum foil.
Step 5
Bake in the preheated oven until meat is loosened from the ribs but not yet falling off the bone, 2 to 2 1/2 hours. Let cool, 5 to 10 minutes.
Step 6
Preheat an outdoor grill to 400 degrees F (200 degrees C) and lightly oil the grate. Place ribs on the grill and cook until browned, about 6 minutes per side. Coat with 1/2 the reserved sauce during the last 2 minutes of cooking each side. Garnish with white and black sesame seeds.
Comments
comment
Average Member Rating
(5 / 5)
5 people rated this recipe
Related Recipes:
Nutritional Info
This information is per serving.
calories

645

fat

49.7

carbohydrates

6.9 g

protein

37 g

cholesterol

176 mg

sodium

1668 mg