Chocolate Eclair Dessert
2017-09-12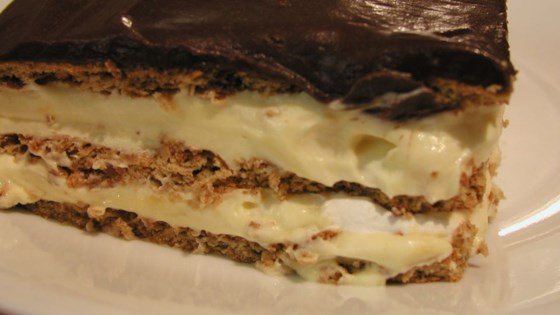 Servings :

12

Prep Time :

15m

Ready In :

2:15 h
Chocolate Eclair Dessert
This is Chocolate Eclair Dessert that's so quick and easy to make – everyone loves it. I always keep the ingredients on hand in case I need a quick dessert.
Ingredients
2 individual packages graham crackers
2 (3 ounce) packages instant vanilla pudding mix
3 cups milk
1 (8 ounce) container frozen whipped topping, thawed
1 (16 ounce) package prepared chocolate frosting
Method
Step 1
Line the bottom of a 9x13-inch pan with graham crackers.
Step 2
In a large bowl, combine pudding mix and milk; stir well. Mix whipped topping into pudding mixture. Spread half of mixture over graham cracker layer. Top with another layer of graham crackers and the remaining pudding.
Step 3
Top all with a final layer of graham crackers and frost with chocolate frosting. Refrigerate at least two hours before serving to allow the graham crackers to soften.
Comments
comment