Cranberry Cornmeal Linzer Cookies
2019-11-13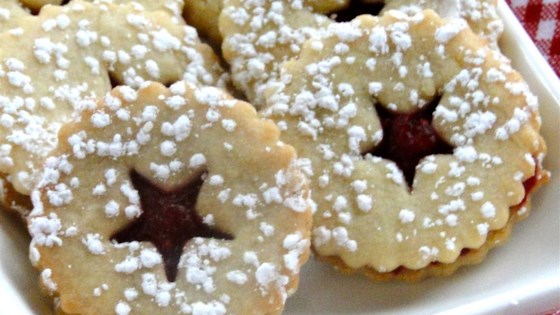 Prep Time :

45m

Cook Time :

10m

Ready In :

1:55 h
Cranberry Cornmeal Linzer Cookies
Cranberry Cornmeal Linzer Cookies – ingredients and method
Ingredients
Cookies:
3/4 cup butter, softened
3/4 cup white sugar
1 egg
1 1/2 cups all-purpose flour
1/2 cup cornmeal
1 teaspoon baking powder
3/8 teaspoon salt
1 teaspoon vanilla extract
Filling:
1 1/2 cups finely chopped cranberries
1/3 cup brown sugar
1/3 cup water
1 1/2 tablespoons butter
1 1/2 tablespoons lemon juice
Method
Step 1
Beat 3/4 cup butter and and white sugar together in a bowl with an electric mixer until creamy. Beat egg into butter mixture.
Step 2
Whisk flour, cornmeal, baking powder, and salt together in a bowl. Gradually add flour mixture to butter mixture; stir. Beat vanilla into butter mixture. Form dough into a ball, wrap tightly in plastic wrap, and refrigerate until firm, at least 1 hour.
Step 3
Preheat oven to 350 degrees F (175 degrees C). Lightly grease baking sheets.
Step 4
Roll dough out onto a lightly floured surface to 1/8-inch thick. Cut dough with a round or Linzer cookie cutter. Use a smaller cutter to cut the center from the tops. Place cookie bottoms and tops 1-inch apart on prepared baking sheets.
Step 5
Bake in the preheated oven until edges are lightly golden, 10 to 12 minutes. Transfer to wire racks to cool.
Step 6
Stir cranberries, brown sugar, and water together in a saucepan over medium-high heat; cook until cranberries are soft, about 10 minutes. Stir butter and lemon juice into cranberry mixture; remove from heat and cool.
Step 7
Spread a small amount of the cranberry mixture onto one side of the bottom half of a cookie. Place the top half of the cookie on top of the cranberry mixture. Repeat assembly process with remaining cookies and cranberry filling.
Comments
comment
Average Member Rating
(5 / 5)
3 people rated this recipe
Related Recipes:
Nutritional Info
This information is per serving.
calories

79

fat

3.9 g

carbohydrates

10.4 g

protein

0.8 g

cholesterol

14 mg

sodium

62 mg