Creamy Shrimp Pasta with Mushrooms
2018-04-13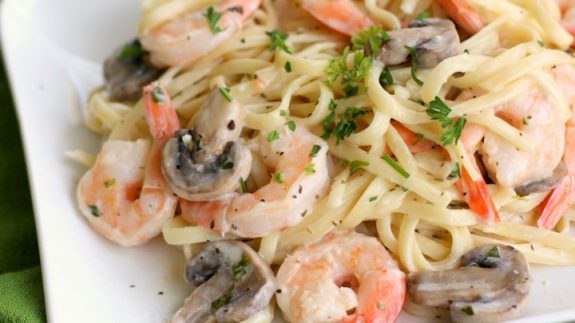 Servings :

4

Prep Time :

10m

Cook Time :

35m

Ready In :

45m
Creamy Shrimp Pasta with Mushrooms
Creamy, Shrimp, Pasta, Mushrooms – ingredients and method
Ingredients
2 tablespoons olive oil
1 pound uncooked medium shrimp, peeled and deveined
3 cloves garlic, finely chopped
1 pinch salt to taste
1 pinch dried basil, or to taste
1 pinch paprika, or to taste
1 (8 ounce) package sliced fresh mushrooms
1 cup half-and-half
3/4 cup shredded mozzarella cheese
1/2 cup grated Parmesan cheese
1/2 (16 ounce) package dry fettuccine pasta
1 pinch red pepper flakes, or to taste
Method
Step 1
Heat olive oil in a large skillet over medium heat. Immediately add shrimp and garlic; cook until shrimp is pink, 3 to 4 minutes. Sprinkle salt, basil, and paprika over shrimp. Cook and stir for 1 minute more, leaving shrimp slightly undercooked to finish cooking in the sauce.
Step 2
Remove shrimp mixture from the skillet. Add mushrooms to the same skillet. Cook and stir, seasoning with salt, until juicy, about 5 minutes. Add the shrimp; immediately pour in half-and-half, mozzarella cheese, and Parmesan cheese. Bring to a boil. Reduce heat and simmer, constantly stirring, until cheese melts, 5 to 8 minutes. Cover with a lid and remove from heat.
Step 3
Fill a large pot with lightly salted water and bring to a rolling boil. Cook fettuccine at a boil until tender yet firm to the bite, about 8 minutes. If cream sauce is too thick, add some pasta water in small amounts. Drain pasta and rinse with cold water. Add to the cream sauce.
Comments
comment