Red Pepper and Tomato Soup
2019-08-18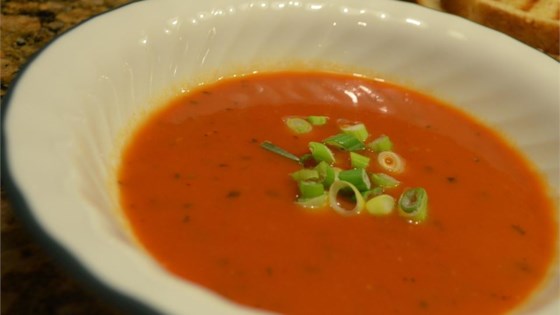 Yield :

4

Prep Time :

15m

Cook Time :

35m

Ready In :

50m
Red Pepper and Tomato Soup
Red Pepper and Tomato Soup – ingredients and method
Ingredients
2 (10 ounce) cans condensed tomato soup
1 1/2 cups water
1 cup tomato juice (such as Mott's®)
1/3 cup minced chives
1/4 teaspoon garlic, minced
1/4 pinch cayenne pepper (optional)
1 teaspoon dried rosemary
1 teaspoon dried thyme
1 teaspoon dried oregano
1/2 teaspoon dried basil
1 teaspoon paprika
1/2 cup diced tomatoes
1/2 cup diced red bell pepper
Method
Step 1
Combine the tomato soup and the water in a large sauce pot; simmer, stirring occasionally, for 5 minutes. Add the tomato juice, chives, garlic, cayenne, rosemary, thyme, oregano, basil, and paprika to the pot. Simmer soup for 25 minutes, stirring occasionally.
Step 2
Stir in the diced tomatoes and red peppers. Simmer until peppers are soft, about 10 minutes.
Comments
comment
Average Member Rating
(5 / 5)
2 people rated this recipe
Related Recipes:
Nutritional Info
This information is per serving.
calories

124

fat

2.5 g

carbohydrates

24.9 g

protein

3.6 g

cholesterol

0

sodium

996 mg