Deluxe Bacon Onion Omelet
2019-08-31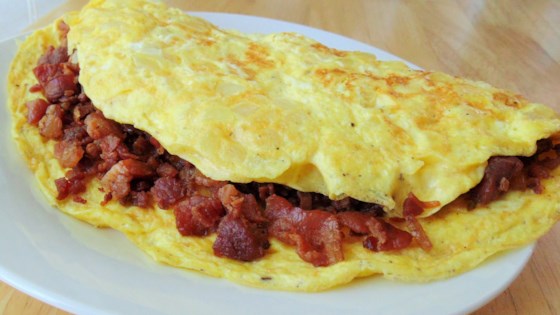 Servings :

2

Prep Time :

10m

Cook Time :

20m

Ready In :

35m
Deluxe Bacon Onion Omelet
Deluxe Bacon Onion Omelet – ingredients and method
Ingredients
4 slices bacon
3 eggs
1 teaspoon water
cooking spray
1 tablespoon butter
1/2 white onion, diced
Method
Step 1
Preheat oven to 375 degrees F (190 degrees C). Arrange bacon on a baking sheet.
Step 2
Bake in the preheated oven until just crisped, 10 to 12 minutes.
Step 3
Beat eggs and water together in a bowl.
Step 4
Let the bacon cool on paper towels, about 5 minutes. Break into small pieces.
Step 5
Spray a 10-inch non-stick skillet with cooking spray. Melt butter over medium heat until foaming, about 2 minutes. Add onion once butter is no longer foaming. Cook and stir until tender but not browned, 4 to 5 minutes.
Step 6
Increase heat to medium-high. Pour eggs into the skillet and cook until mostly set, about 2 minutes. Lift the omelet with a spatula as the center rises; tilt the skillet so that uncooked eggs run to the center of the pan. Cook until set, 2 to 4 minutes. Sprinkle bacon pieces onto the omelet and fold in half using the spatula.
Comments
comment
Average Member Rating
(5 / 5)
5 people rated this recipe
Nutritional Info
This information is per serving.
calories

259

fat

19.3 g

carbohydrates

6.1 g

protein

15.5 g

cholesterol

310 mg

sodium

485 mg