Peanut Butter and Oat Brownies
2018-06-23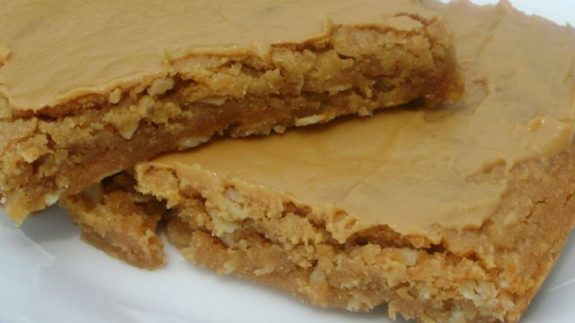 Servings :

16

Prep Time :

15m

Cook Time :

30m

Ready In :

45m
Peanut Butter and Oat Brownies
Peanut Butter and Oat Brownies – ingredients and method
Ingredients
3/4 cup butter, softened
3/4 cup peanut butter
3/4 cup white sugar
3/4 cup brown sugar
1 1/2 cups all-purpose flour
1 1/2 cups rolled oats
1 1/2 teaspoons vanilla extract
2 eggs
2 teaspoons salt
1/2 cup peanut butter, or as needed
Method
Step 1
Preheat oven to 325 degrees F (165 degrees C). Grease a jelly-roll pan.
Step 2
Beat butter, 3/4 cup peanut butter, white sugar, and brown sugar together in a large bowl until creamy. Add flour, oats, vanilla extract, eggs, and salt; stir until just mixed. Spread batter into the prepared jelly-roll pan.
Step 3
Bake in the preheated oven until lightly browned, about 20 minutes. Cool brownies in the pan for 10 to 15 minutes. Spread 1/2 cup peanut butter on top of brownies.
Comments
comment