Savory Pork Stew
2019-08-28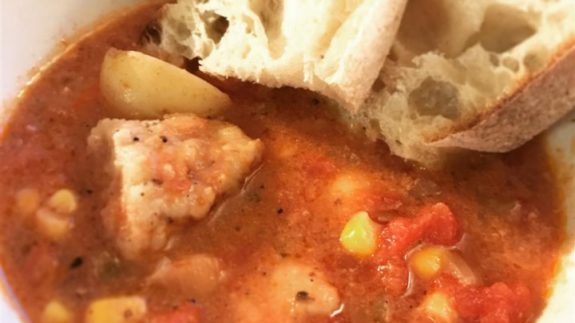 Servings :

8

Prep Time :

15m

Cook Time :

2:00 h

Ready In :

2:15 h
Savory Pork Stew
Savory Pork Stew – ingredients and method
Ingredients
1 tablespoon extra virgin olive oil
2 pounds cubed pork stew meat
salt to taste
ground black pepper to taste
garlic powder to taste
2 tablespoons cornstarch, or as needed
8 red potatoes
1 green bell pepper, chopped
1 red bell pepper, chopped
1 sweet onion, diced
1 (11 ounce) can whole kernel corn
1 (14 ounce) can stewed tomatoes
1 (10.75 ounce) can cream of mushroom soup
1 1/4 cups milk
1 (14 ounce) can beef broth
1 tablespoon Italian seasoning
Method
Step 1
Heat the olive oil in a skillet over medium heat. Sprinkle pork on all sides with salt, pepper, and garlic powder, and lightly coat with cornstarch. Place pork in the skillet, and cook until lightly browned but not done. Transfer to a slow cooker. Place potatoes, green bell pepper, red bell pepper, onion, and corn in the slow cooker.
Step 2
In a bowl, mix the tomatoes, cream of mushroom soup, milk, broth, and Italian seasoning. Pour into the slow cooker.
Step 3
Cover, and cook 1 hour on High. Reduce heat to Low, and continue cooking at least 1 hour.
Comments
comment