Banana Bread
2019-01-09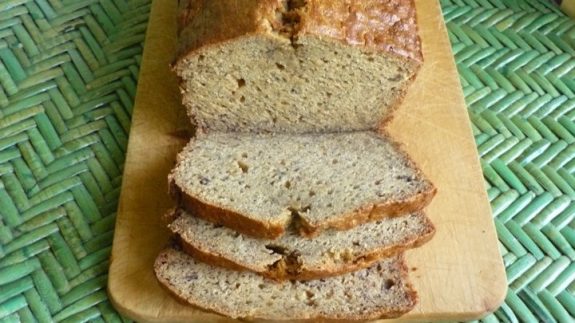 Servings :

6

Prep Time :

15m

Cook Time :

1:05 h

Ready In :

1:20 h
Banana Bread
Banana bread is a classic American sweet bread that has been enjoyed for generations. This delicious treat is made with ripe bananas, giving it a sweet and moist flavor. It's perfect for breakfast, a mid-day snack, or even dessert!
The key to making perfect banana bread is using ripe bananas. When bananas start to turn brown and are very soft, they are perfect for baking. Mash them up and add them to your batter for the best results.
In addition to the ripe bananas, you'll need some other basic ingredients to make banana bread: flour, sugar, eggs, butter or oil, and baking powder. There are many variations of this recipe that use different types of flour or sweeteners, but the basic ingredients remain the same.
To make your banana bread even more special, you can add in some extras like nuts or chocolate chips. These will give your bread some extra crunch and flavor.
Once you have all of your ingredients mixed together, pour your batter into a greased loaf pan and bake in a preheated oven for around an hour. You'll know your bread is done when a toothpick inserted into the center comes out clean.
Banana bread is a delicious and easy treat to make at home. It's perfect for using up those overripe bananas and can be enjoyed any time of day. Plus, with so many variations of the recipe, you can always switch things up and try something new.
So next time you have some ripe bananas on hand, give this classic recipe a try and enjoy a slice of delicious banana bread!
Ingredients
2 cups all-purpose flour
1 teaspoon baking soda
1/4 teaspoon salt
1/2 cup butter
3/4 cup brown sugar
2 eggs, beaten
2 1/3 cups mashed overripe bananas
Method
Step 1
Preheat oven to 350 degrees F (175 degrees C). Lightly grease a 9x5 inch loaf pan.
Step 2
In a large bowl, combine flour, baking soda and salt. In a separate bowl, cream together butter and brown sugar. Stir in eggs and mashed bananas until well blended. Stir banana mixture into flour mixture; stir just to moisten. Pour batter into prepared loaf pan.
Step 3
Bake in preheated oven for 60 to 65 minutes, until a toothpick inserted into center of the loaf comes out clean. Let bread cool in pan for 10 minutes, then turn out onto a wire rack.
Comments
comment