Avocado Lime Cheesecake
2019-08-11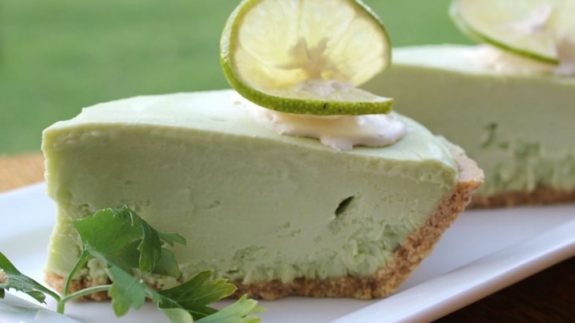 Servings :

8

Prep Time :

20m

Cook Time :

5m

Ready In :

3:35 h
Avocado Lime Cheesecake
Avocado Lime Cheesecake – ingredients and method
Ingredients
1 1/2 cups heavy whipping cream
3/4 cup white sugar
1 1/2 ripe avocados, peeled and pitted
2 (3 ounce) packages cream cheese, softened
1/2 cup fresh lime juice
1 (8 inch) prepared graham cracker crust
Method
Step 1
Heat cream in a small saucepan until small bubbles appear around edges. Remove from heat and stir sugar into cream until it dissolves. Transfer to a medium bowl and allow to cool.
Step 2
Combine avocado and cream cheese in a food processor and blend until smooth. Add lime juice and process until smooth; whisk into the cooled cream mixture.
Step 3
Fill an ice cream maker with the avocado mixture, and freeze according to the manufacturer's instructions for making ice cream.
Step 4
Spoon avocado mixture into the prepared pie crust; smooth surface with a spatula. Freeze until solid, at least 2 hours. Let cheesecake sit at room temperature until slightly softened yet firm enough to slice before serving, 10 to 15 minutes.
Comments
comment
Average Member Rating
(5 / 5)
1 people rated this recipe
Related Recipes:
Nutritional Info
This information is per serving.
calories

470

fat

34.8 g

carbohydrates

39 g

protein

4.2 g protein

cholesterol

85 mg

sodium

204 mg