Beef Kushiyaki
2019-08-13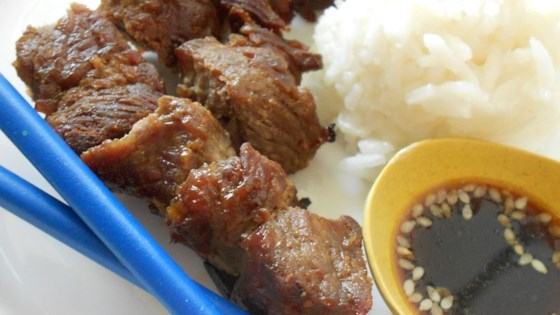 Servings :

8

Prep Time :

15m

Cook Time :

10m

Ready In :

55m
Beef Kushiyaki
Beef Kushiyaki – ingredients and method
Ingredients
2 1/2 tablespoons mirin (Japanese sweet wine)
1 clove garlic, minced
1/3 cup soy sauce
1/8 teaspoon monosodium glutamate (such as Aji-No-Moto®)
1/3 cup white sugar
1 pound beef sirloin steak, cut paper-thin
3 green onions, cut into 2-inch slices
bamboo skewers
Method
Step 1
In a bowl, mix the mirin, garlic, soy sauce, monosodium glutamate, and sugar; stir to dissolve the sugar. Place the beef and green onions into the marinade, stir to coat with marinade, and allow to stand for 30 minutes. Soak bamboo skewers in water.
Step 2
Preheat the oven's broiler and set the oven rack about 6 inches from the heat source.
Step 3
Roll a slice of thin beef around a piece of green onion; skewer the roll with 2 bamboo skewers, place about 1/2 inch apart. Repeat twice more, placing 3 beef rolls onto the 2 skewers. Repeat with remaining beef, green onion, and skewers until all the beef is rolled up. Place skewers onto a broiling pan. Discard used marinade.
Step 4
Broil until browned on both sides, about 3 to 3 1/2 minutes per side.
Comments
comment