Easy Black Forest Cake
2017-08-29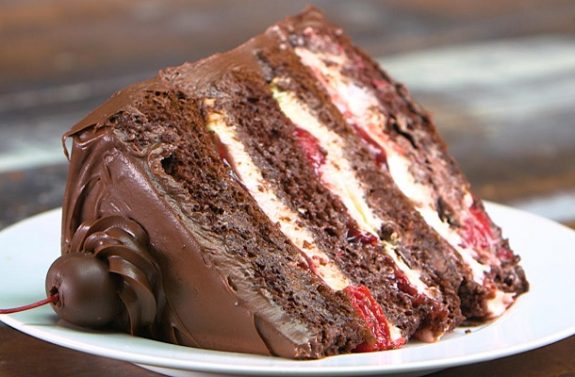 Servings :

12

Prep Time :

35m

Cook Time :

35m

Ready In :

1:10 h
Easy Black Forest Cake
Easy Black Forest Cake recipe and method of preparation. The best kitchen with many recipes.
Ingredients
Unsweetened cocoa
1 (18.25-oz.) package devil's food cake mix
1 (3.4-oz.) package chocolate instant pudding mix
3 large eggs
1 1/4 cups milk
3/4 cup canola oil
1 tablespoon vanilla extract
1 1/2 teaspoons chocolate extract
1 teaspoon almond extract
3 (1.55-oz.) milk chocolate bars, chopped
2 (16-oz.) cans chocolate fudge frosting
1 1/2 cups ready-to-eat cheesecake filling, divided
1 cup cherry pie filling, divided
Garnish: chocolate covered cherries, halved (optional)
Method
Step 1
Preheat oven to 350°. Grease 2 (8-inch) round cake pans, and dust with cocoa. Set aside.
Step 2
Beat cake mix and next 7 ingredients at low speed with an electric mixer 1 minute; beat at medium speed 2 minutes. Fold in chopped chocolate. Pour batter into prepared pans.
Step 3
Bake at 350° for 30 to 32 minutes or until a wooden pick inserted in center comes out clean. Cool in pans on wire racks 10 minutes. Remove from pans to wire racks, and cool completely on wire rack. Wrap and chill cake layers at least 1 hour or up to 24 hours.
Step 4
Using a serrated knife, slice cake layers in half horizontally to make 4 layers. Place 1 layer, cut side up, on cake plate. Place 1/3 cup of the frosting in a piping bag; pipe a ring of frosting around the edge of the first cake layer to create a border. Spread one-third of cheesecake filling over cake inside frosting ring; top with one-third of cherry pie filling. Repeat procedure twice with frosting borders, remaining cheesecake filling, and cherry filling. Place final cake layer on top of cake; cut side down. Spread remaining chocolate fudge frosting on top and sides of cake. Cover and chill in refrigerator until ready to serve. Garnish, if desired. Store in refrigerator.
Step 5
Test Kitchen Tip: We tested this recipe with Philadelphia ready-to-eat cheesecake filling. You'll find it in the dairy case with cream cheese products.
Comments
comment