Rainbow Citrus Cake
2018-07-20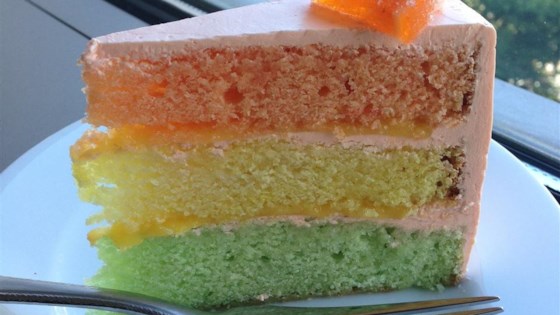 Servings :

12

Prep Time :

45m

Cook Time :

30m

Ready In :

2:45 h
Rainbow Citrus Cake
Rainbow Citrus Cake – ingredients and method
Ingredients
3 1/2 cups all-purpose flour
5 teaspoons baking powder
1 teaspoon salt
3/4 cup shortening
2 1/4 cups white sugar
4 eggs, room temperature
1 1/2 cups milk
2 teaspoons vanilla extract
2 teaspoons grated lemon zest
2 teaspoons grated orange zest
2 teaspoons grated lime zest
2 drops yellow food coloring
2 drops orange food coloring
2 drops green food coloring
1 recipe Lemon Custard Filling
1 recipe Orange Cream Frosting
Method
Step 1
Preheat oven to 350 degrees F (175 degrees C). Grease and flour three 9-inch pans. Sift together the flour, baking powder, and salt. Set aside.
Step 2
In a large bowl, cream together the shortening and sugar until light and fluffy. Beat in the eggs one at a time, mixing until each egg is incorporated; stir in the vanilla. Beat in the flour mixture alternately with the milk. Divide batter into 3 bowls.
Step 3
In the first bowl, stir in lemon zest and yellow food coloring; pour into prepared pan. In the second bowl, stir in orange zest and orange food coloring; pour into second prepared pan. In the last bowl, stir in the lime zest and green food coloring; pour into third prepared pan.
Step 4
Bake in the preheated oven until a toothpick inserted into the center of each cake layer comes out clean, about 30 minutes. Let cool in pan for 5 minutes, then turn out onto a wire rack and cool completely.
Step 5
Assemble the cake: stack the layers together with the Lemon Filling in between the layers. Frost sides and top with Orange Cream Frosting. Refrigerate until serving.
Comments
comment