Stuffed Green Peppers
2017-08-03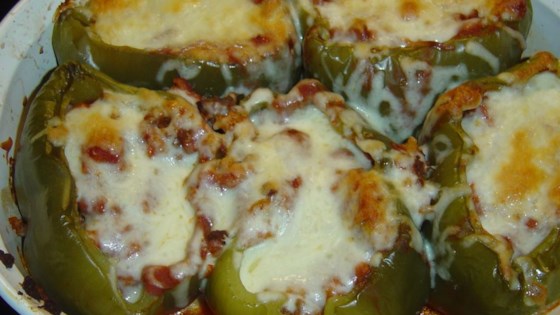 Servings :

6

Prep Time :

20m

Cook Time :

25m

Ready In :

45m
Stuffed Green Peppers
Stuffed green peppers with ground beef, onion and rice, and then baked and topped with spaghetti sauce. Recipe and how to prepare it
Ingredients
1 1/2 pounds lean ground beef
1 onion, chopped
3/4 cup uncooked instant rice
3/4 cup water
1 (14.5 ounce) can peeled and diced tomatoes with juice
1 (14.5 ounce) can stewed tomatoes, chopped
salt and pepper to taste
6 large green bell peppers
1 (16 ounce) jar spaghetti sauce
Method
Step 1
In a large skillet or medium stock pot, brown the beef and onion over medium heat. Drain fat. Add rice, water, diced tomatoes, and stewed tomatoes. Season with salt and pepper. Simmer until rice is tender. Preheat oven to 325 degrees F (165 degrees C).
Step 2
Cut the tops off the bell peppers and clean out the seeds and membrane. (Note: You may have to slightly slice the bottom of the peppers to make them stand up.) Fill peppers with meat mixture.
Step 3
Place in a casserole dish and bake in a preheated oven for 20 minutes or until peppers are as tender as you like. Served topped with spaghetti sauce.
Comments
comment