Easy Blueberry Cobbler
2018-08-11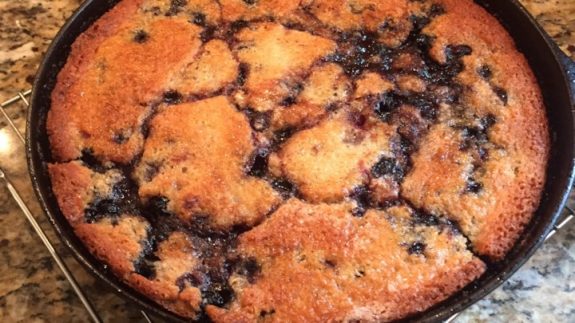 Servings :

8

Prep Time :

10m

Cook Time :

1:05 h

Ready In :

1:15 h
Easy Blueberry Cobbler
Easy Blueberry Cobbler – ingredients and method
Ingredients
1/2 cup butter
1 cup self-rising flour
1 cup white sugar
1 cup milk
4 cups fresh blueberries
Method
Step 1
Preheat oven to 350 degrees F (175 degrees C). Place butter in an 8-inch square baking dish.
Step 2
Melt butter in the preheating oven, about 5 minutes. Remove from oven.
Step 3
Mix flour, sugar, and milk in a bowl until combined; pour batter over melted butter. Scatter blueberries over batter.
Step 4
Bake in preheated oven until a toothpick inserted into the center comes out clean, about 1 hour.
Comments
comment