Stuffed Red Peppers
2019-08-17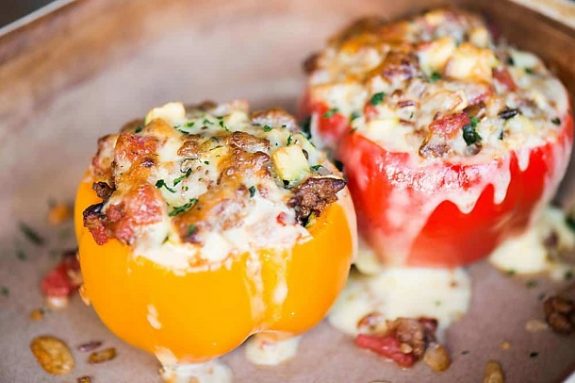 Servings :

4

Prep Time :

15m

Cook Time :

1:30 h

Ready In :

1:45 h
Stuffed Red Peppers
Stuffed Red Peppers – ingredients and method
Ingredients
1 cup brown rice
4 cups water
1 pound ground beef
1 onion, diced
1/4 cup chopped mushrooms, or to taste
3 cloves garlic, chopped
1 (16 ounce) can diced tomatoes
1 (6 ounce) can tomato paste
1 teaspoon Italian seasoning
salt and ground black pepper to taste
6 red bell peppers, tops and seeds removed
1/4 cup grated Parmesan cheese, or to taste
Method
Step 1
Bring brown rice and water to a boil in a saucepan. Reduce heat to medium-low, place a cover on the saucepan, and simmer until the rice is tender, about 40 minutes; transfer to a large mixing bowl.
Step 2
Preheat oven to 350 degrees F (175 degrees C).
Step 3
Heat a large skillet over medium-high heat. Break ground beef into small pieces and place in the skillet. Add onion, mushrooms, and garlic; cook and stir until the beef is completely browned, 7 to 10 minutes. Mix beef mixture into brown rice.
Step 4
Stir tomato sauce, diced tomatoes, tomato paste, and Italian seasoning into the rice mixture and season filling with salt and black pepper.
Step 5
Arrange bell peppers in a baking dish. Spoon filling into bell peppers.
Step 6
Bake in preheated oven until the peppers are tender, about 1 hour. Sprinkle Parmesan cheese over the stuffed peppers to serve.
Comments
comment